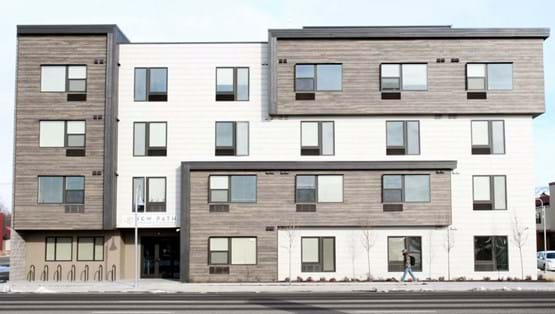 Annual Evaluation
Our Path Home, the public-private partnership working to end homelessness in Ada County, in partnership with the Idaho Policy Institute, has released the New Path Community Housing 2020 Annual Evaluation. The Evaluation highlights the collective community benefit of the Housing First model, which provides housing to individuals experiencing homelessness alongside supportive services.

Donations Needed
Our neighbors at New Path are in need of various items such as cleaning supplies, food staples (e.g., cooking oils, spices), coffee grounds, and arts and crafts supplies. Monetary donations are also accepted. Donation drop-offs can be coordinated with Kendra Lutes.
---
New Path Community Housing
On November 29, 2018, New Path Community Housing – Idaho's first site-based permanent supportive housing development – opened its doors to 45 community members experiencing chronic homelessness.
New Path is a 41-unit apartment community designed to serve Ada County residents experiencing chronic homelessness with significant and multiple barriers to housing. The units come furnished and there is a community room with a full kitchen, computer lab, laundry areas and recreational space.
New Path has an onsite property manager, and several staff employed by Terry Reilly Health Services work on-site during the week, including a social worker, case manager, 2 peer specialists, a registered nurse, and a housing specialist. These staff provide support services to residents such as resolution of tenant-landlord issues, case management, mental health and substance use treatment, job counseling, and coordination of care.
By providing such support, Our Path Home's goals for New Path include:
Reducing the number of people experiencing chronic homelessness in Ada County
Providing a safe place to live that offers evidence-based, effective support services to engage residents and help them achieve their personal wellness goals
Reducing and preventing criminal justice system involvement
Reducing the use of the emergency medical services system
Increasing and strengthening connections to peers and the community at-large
Low-Income Tax Credits, funding from the federal HOME program and City of Boise general funds provided for debt-free construction of New Path Community Housing. For the first time, the Boise City/Ada County Housing Authority is providing rental assistance by way of project-based vouchers, and the county and hospital systems are funding the supportive services.
New Path Story: Part 1
Watch Part 1 of Karen and Jimi's New Path Story.